Rick Harrison
Personal information
Born
March 22, 1965
Davidson, North Carolina
Nationality
American
Resides
Las Vegas, Nevada
Education
Taft Middle School
(San Diego, California)
Relatives
Richard Harrison (father)
Corey Harrison (son)
Career information
Occupation
Owner of the
Gold & Silver Pawn Shop
Years active
1989-present
Television series
Appearances
Seasons 1-14
Status
Active

Rick Harrison is co-owner of the shop and part of the main cast of the hit History show Pawn Stars. Rick is the foundation of the show. He handles most of the sales on the show, and is known for his breadth of knowledge on any topic.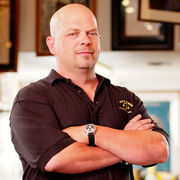 Rick was diagnosed with Epilepsy at an early age, his seizures would be so intense that he would be bed-ridden for weeks. During this time he would develop a lifetime love of learning that would form the foundation of the knowledge he uses to trade rare historical items. At the age of 23, he partnered with his father, Richard Harrison, and together, they founded the Gold & Silver Pawn Shop in 1988, less than 2 miles away from the Las Vegas Strip. He also was instrumental in conceiving the show's concept and bringing the show to air.
Rick mentioned that he could possibly be a descendant of Presidents William Henry Harrison and Benjamin Harrison.
Many weekends you can find Rick bar-tending at his tavern next door to the Pawn Shop.